Invertebrates
Among many life forms attracted to areas that have rocks or shells for substrate, (to attach to) invertebrates play a critically important role that at times, makes the difference between life and death for many other species.
Usually spending their lives (sessile) in one spot, they are not glamorous and are typically drab in color. As, filter feeders, they inhale seawater, they consume bacteria, microbes, particles of algae and other nutrient-rich detritus suspended in the water column, which is used as a food source, and metabolized for energy and growth. The seawater exhaled from filter feeding invertebrates has been cleansed by this filtering, maybe not so different from your kidneys and liver which filter wastes from your own body. Maybe filter feeding invertebrates act as the "kidneys and liver" of the sea. They also provide habitat for larval stage plants and animals, which, when full grown grace your favorite restaurant menu or are found at the local seafood market.

One reason they look drab is because they are usually blanketed by the particles of algae, larvae, plankton, or organic matter, too large for them to inhale and digest. Almost all of the pictures in the slide-show below, were taken on the same day.
The very same toxic "red tide" that killed the fish in these pictures, is also being consumed by the invertebrates in the pictures. Filter feeding invertebrates are nature's "environmental emergency clean-up workers". Working ceaselessly, they clean and filter seawater, consume "red tide", other harmful algal blooms, bacteria and germs that are toxic to fish, humans, and other life forms. These invertebrates also consume vast amounts of bacteria with no apparent ill effect....
Perhaps "Mother Nature" addressed the problems of toxic blooms, and hypoxia in seawater eons ago, in that these (benthic) bottom dwelling, filter-feeders also create a current when they exhale which contributes to up-welling, a movement of nutrient rich water to the surface, to the atmosphere we breathe, which contains oxygen, thus also oxygenating, the seawater. Surface and upper water column plankton and larval stage marine plants and animals feed on these nutrients, grow, and become a food source for pelagic animals and man.

Surprisingly, many filter-feeding invertebrates are most commonly found on boat bottoms, pilings, docks, rocks, shells or dead on the seashore mixed in with seaweed that has blown ashore. Typically, they are scraped off boat bottoms, are expensive to get rid of, considered a nuisance, and
having no commercial or food value
are destroyed. They seem to prefer non-moving substrate, and sponges seem to like the seafloor or darker shady areas under docks, among oysters, rocks and mangrove roots. Sponges, workhorses, filter vast amounts of bacteria and toxic algal blooms of seawater... Can you think of a better way to rid seawater of bacteria without injuring or harming other marine life?

Most incredibly, the animals and plants pictured below were dead or in small pieces, dried up on the beach, before being replanted in the bay. Formerly dredged, mostly non-viable oyster beds existed here. Bivalve consumption being forbidden by the government due to health risks associated with contamination from bacteria, runoff, and pollution also existed here, in murky seawater with excess algae, elevated nutrients, and variable pH in mid 7. 4-8 range, based on my records over late 2007 through 2008, and sporadically to the present.
Any toxin introduced into the water column to kill "red tide" or other harmful algal blooms or bacteria could possibly kill unintended target life in the water column along with it. Perhaps, Nature, through the filter feeding invertebrates, found the way to solve our harmful algal blooms a long time ago....

Everything found is put into a bucket of seawater immediately.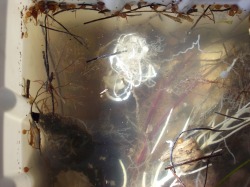 This picture shows a variety of what can be collected on the beach in what
we call the "dead zone", which is landward from the high tide line. They must immediately be put in a bucket of seawater. They breathe water, not air, and are suffocating if they are not in seawater. How long can you hold your breath? They are taken to the bay to a preferably calm, semi-shady area, with tidal flushing action and currents, where they are
planted
.
Why are sponges among my favorite filter feeding invertebrates? Sponges are animals and come in all sizes, shapes and colors. Sponges consume BACTERIA as a source of food when they inhale seawater through their pores. When they "exhale" through the "oscula" (the big external central opening(s), they actually create a current, which oxygenates seawater. It was documented that "a loggerhead sponge one foot in diameter consumes up to one ounce of bacteria and filters up to one ton of seawater in a 24 hour period." **
The
MOST
important thing to remember when handling sponges you have found on shore, is to
always wear gloves
when touching them. When you are done planting them at your "reef" site, remove the gloves and wash your hands and body thoroughly. Sponges usually smell terrible, very stinky, and consume bacteria. You can expect them to be laden with bacteria, and microbes; therefore, wear gloves if you pick them up and put them in the bucket. Always carry peroxide, diluted bleach or anti-bacterial soap; if you get a scratch, --wash and clean it immediately..
You must always wash your hands after planting.
---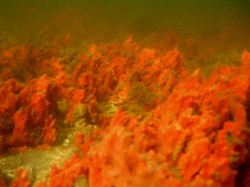 Interestingly, this image of Cliona, (is an invertebrate filter feeder) that grew from a few small pieces, into a colony about 50 wide and about 40 feet across in about 4 months. If cliona is a "fecal indicator", and this region where it grew so fast, is a region where shellfish are not permitted to be eaten because they are not considered safe for human consumption due to high bacteria levels, do you think the cliona population "exploded" because it had an abundant food supply, and was consuming fecal bacteria and matter, and should be left to grow to initialize cleaning up this area of bay?
---
After picking the spot where you are going to start your "reef", every time you go there to plant, fish will appear, watching you and the bucket and follow you around as you plant, waiting for what comes out of the bucket. I think this is a feeding response. Many are juveniles and to them, these goodies, like sargassum seaweed from the beach encrusted with eggs, are a treat! After establishing a daily planting pattern at a certain time of day, you will notice the fish waiting nearby, ready to swim up to your bucket. Anything you plant that doesn't live or hatch will be eaten by them.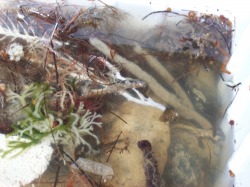 Like condominiums, sponges are home for newly hatched larva of all kinds of plants and animals. When fish, crab, shrimp, and other eggs are fertilized, many larvae, plankton or ova drifting in the current, get inhaled into the sponge. Whatever the sponge doesn't eat, particles too big to digest, are eaten by the juveniles living safely nearby. Some stay with the sponge until they venture out, in the next stage of their life journey, before going to the sea.

Sponging, was a huge industry many years ago, but plastic synthetic sponges may have impacted this industry. When a sponge gets harvested, the juveniles living inside it don't survive, which lowers the survival rate of many creatures in the sea. A scientist cut open a 1 foot diameter loggerhead sponge and stopped counting animals in it when he reached 16,000 at less than half way through.

Maybe, millions of years ago, Mother Nature perfected how to keep bacteria in ocean water at a balanced safe level, within the food chain of filter feeders, invertebrates, tunicates and sponges.
---
Everything in this bucket came from the bottom of an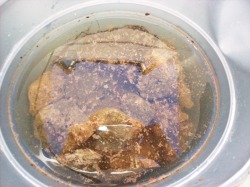 abandoned boat. They are not barnacles. We leave barnacles on the boats, even though they are good substrate for moss animals, sponges, tunicates, juvenile fish, plants, and crustaceans. The sponges, moss animals, tunicates and seaweed in this bucket are home to millions of newly hatched microscopic size fish, shrimp, crabs, and krill. Some swim around the bucket like little race cars, alive, full of energy and ready to leap into life. Others cling anyplace they can, to settle or hang on rather than be swept away by currents or eaten by predators.

Egg masses that haven't hatched are here too! Just remember the sea is a garden and you are starting your own little garden. Put a rock, sand, shell or mud on top of part of the sponge or whatever is being planted to anchor it, after gently squeezing the air bubbles out of it, so it will not float, a very gentle reverse "CPR" to get water into the sponges and expel air.

---
After a high tide, what may typically wash up on the shore...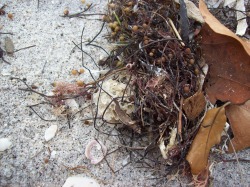 Among sea grape leaves, lie clumps of Sargassum seaweed covered with eggs, a "bouquet" of tulip snail egg cases, and egg collars that look like an oddly textured thick fabric and more. The less amount of time, seaweed has been out of the ocean, the greater the amount of survivors! Not only are you collecting plant and animal eggs, you are getting plenty of oxygen and exercise. Some people will ask about, and be fascinated by what you are doing with re-planting. Your positive energy can becomes contagious. Other beach goers sometimes start collecting to help you!
---
A storm blew everything you see in the picture. They immediately were put into a bucket of seawater. If you zoom in, you will sea scallops, clams, and more.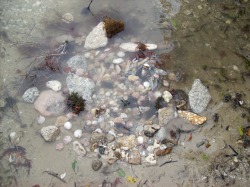 About 25 or thirty years ago, people could collect scallops by the bucket in the sea grass beds in the bay. Eventually, they disappeared. Some people say the water quality changed and scallops are very sensitive to the difference.

At least 100 calico bay scallops, ark clams and other creatures, that wind and waves threw on the beach, are being planted where none existed. The seaweed is laden with eggs on the leaves and stems. This batch was planted about 2 years ago. There have been survivors, because I saw a scallop just the other day... but I'm sure raccoons, fish, and birds ate some too.
---
Plant them in two to three feet of water (depth) at low tide so when tides rise or fall, they are always submerged.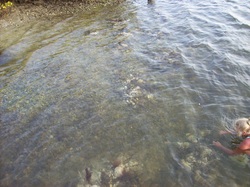 Isn't it wonderful to try restocking the bay with what used to be abundant there? All Nature might need is a little help. The best time to plant is during low-tide so they will be submerged right from the start. As long as you get them in water, even in a bucket, is better than being on the beach in the air.
If you can, change the water in the bucket every few hours, because it will get smelly and discolored. I think soaking them dissolves outer "scabs" that formed, when they dried up in the sun. You are also adding oxygen when you change the water and removing the particles they are shedding...
WASH your hands when you change the water, after planting, and always wear latex gloves please. There are things in the ocean we can't see with our eyes, microbes, GERMS, plankton and more. If you have any open cuts or a rash WAIT UNTIL IT HEALS, YOU DO NOT WANT BAD GERMS like MRSA, Staph, or Vibrio Vulnificus ENTERING your body and infecting you, THROUGH A CUT ON YOUR BODY, from the sand or seawater at the beach!
---
______________________________________________________
** Invertebrates of North America, (Milne).