Some Global Conservation Topics:

Erosion of Coasts and Rising Seas:
Many peoples' lives are based entirely on and around the sea. Some economies are based on tourism or commercial fishing, and coastal low lying regions and islands are particularly vulnerable to rising sea levels. Faced with this, people are trying to find ways to avoid being displaced, and preserve their homes, cultures and way of life.

The Maldives, among other southern Pacific nations, are making remarkable advances with this issue. Click on: "Maldives" to see progress they have made. Scientists work together with the residents of the Maldives, (and other countries); study some of their work at www.GlobalCoral.org or www.Biorock.org. Research the internet for the most current projects that are underway.

Aquaculture
When fish and other sea creatures are caught during migration, to ensure their finite specie population will not diminish, some people combine roe and sperm, from newly caught adults en route to spawning grounds. Placing the fertilized roe in spawning grounds or contained tank systems to hatch, increases survival rates of existing fish populations, ensuring more reach spawning age, continuing the next cycle.

Juvenile larval fish in contained systems have a higher survival rate, being safe from natural predators. In the wild, possibly up to 5% of all fertilized eggs reach maturity and spawning age. In a contained system, survival rates sometimes exceed 80%, helping ensure continuation of their life cycle (i.e., tuna populations have diminished 80% in the last thirty years or so).

Habitat:
Creating and protecting established spawning grounds, estuaries, and planting mangroves, considering the current rate of human resource consumption, is another concept being addressed globally.

Those who live by the sea, have a natural awareness, sensitivity, and love for their area. Locals are the best observers, knowing their area's history, first hand; and how things were in the past, compared to what exists now.

All species require habitat, including humans. Humans require fresh air and potable water in their habitat... What do you think would happen if we had no habitat, air to breathe, or fresh water to drink?

Did you know that the ocean provides much of the oxygen that we breathe? What happens when there is not enough oxygen in ocean water to support marine life? Does this happen? Yes. Areas called "Dead Zones " are becoming more common and larger. Is there anything we can do to prevent dead zones from growing? Yes.

How? This is where "mangroves" come to the rescue as a buffer zone that absorbs, uses, and filters run-off from land before it enters the ocean. Nutrients contained in fertilizer for agriculture, and in sewage "run-off", feed marine plants, which create habitat and feed herbivores, and juvenile fish, which feed birds and animals that live in the sea, mangroves and wetlands, all the way up the food chain. Water flows downhill and carrys everything in it into the sea.

Mankind's huge nutrient loads, garbage, industrial wastes and run-off of today, were not meant to end up in the ocean in the massive volumes that occur on a daily basis. These "nutrients" going into the sea, contribute to ocean acidification and foul the water.Some things that elevate nutrient levels are decomposing bodies of plankton, krill, fish, birds, and marine mammals that succumbed to disease, starvation, toxic chemicals, oil spills, thermal stress, diminished food supply, or lack of oxygen in the water column.

High nutrient levels and acidification increase in the water column and appear to feed algal or bacterial and, and microbe populations.

This "(non-)toxic" soup creates a contest of survival between other ocean resident species in a "vicious cycle" of life or death within the parameters of the "new normal" existing water chemistry... An example: when cultivating a garden on land, "fish emulsion fertilizer" or burying fish in the soil, fertilizes and adds nutrients to the garden. Does this same "fertilizing" parallel exists in lakes, ponds, and oceans, too.

Why should we plant Mangroves?
Mangrove forest habitat and wetlands are spawning grounds, nurseries, habitat for juvenile fish, and home for invertebrates, filter feeders, crustaceans, micro-crustaceans, krill, plankton, bi-valves and more.

Mangroves are nesting grounds for birds, and other animals that live on land, as well as, in the sea. Mangroves produce "oxygen" for us to breathe, stabilize shorelines, prevent erosion, filter runoff, and purify water.

Over-fishing:
Over-fishing practices will stop because the huge migratory schools of fish have diminished, or because we choose to restock the seas, ensuring a continuing abundance of these natural resources. Watch "Seaweed with eggs" on Youtube at the Provitapax channel. Yes, some of these eggs attached to seaweed will hatch, if the seaweed is re-planted in a bay, lagoon, or fish tank!

By-Catch:
When commercial fishing vessels catch non-targeted fish, the unwanted catch can be recycled by accompanying "sister-bycatch-vessels", whose sole purpose would be to sort, process, freeze, or release still living unwanted catches, optimizing everything caught.

Slaughtering for Sport:
The big game fish of Hemingway's era can be seen in old photos. Huge fish were harvested, filleted, sold, or smoked, eaten with gusto, celebration and great storytelling. Some sport fish, however, are not consumed and are simply left to rot. To see an example of this, click on the link,"PTTS Tarpon Slaughter". Tarpon schools and their population are finite. Catch and release practices for game fish not eaten will ensure this pastime carrys on for years to come.Costa Rica has become the first country to outlaw hunting/slaughtering for sport.

Anthropogenic Pollution:
Pollution caused by human beings is called "anthropogenic". Pump-out facilities at ports of call for ocean liners could prevent ships from emptying their bilges offshore in International waters.

Oil drilling spills or blowouts, microbe-laden waste from sewer companies, factory chemical and manufacturing emissions, and garbage dumping, cause a breathe taking toll on the oceans, which interconnects with all life on our planet. Effects of pollution range from birth defects, mutations, diseases, sterility and death, not only in humans, but the entire food chain. We simply can choose to treat the earth with respect, and keep our air, water and oceans clean.

Man-made noises, (seismic, or sound pollution) explosions, electrical sounding equipment, mining, and fracking, stress, kill or injure through acoustic shock waves and impacts, deafening fish, rupturing or damaging eardrums and sensitive organs by which dolphins and whales navigate, migrate or communicate. Magnetic deviations, likewise, confuse them in finding their spawning and feeding grounds. Could this why some animals beach themselves on the shore?
Many eggs never get a chance to hatch because they are in seaweed blown onto the shore. The video above shows step by step, where to find dried up egg sacs clusters, to hatched and released juvenile horse conchs.

Imagine if, worldwide, people start collecting and hatching eggs they find and have success with just some of them. On a global basis this could make a difference in over-fished or polluted areas... and create aquaculture, or eco-tourism jobs..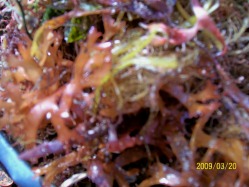 Why do many creatures of the sea spawn 1,000's to millions of eggs? Only about 5% make it to spawning age. Could gathering these eggs be a "new" natural resource used in restocking the oceans? If school children take pictures and document what they hatch, once verified, it could be added to the field guide information and text books for fish egg identification. Could this be a new method of recycling.... this is why as eggs are found, could they be put in seawater right away, to start the re-hydration process.
---
These were found on shore after a storm.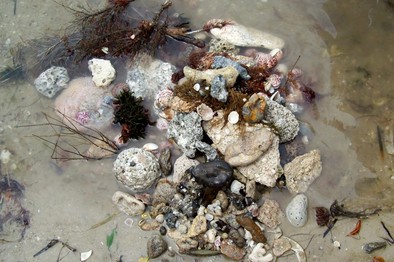 Soft corals, stony corals, sea fans, sponges, bivalves, seaweed with many kinds of egg masses and krill, in the picture to the left, were planted. Many lived.
---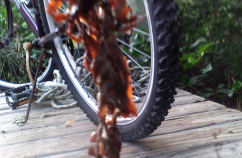 This particular seaweed is limp, did not rehydrate, or may have been "burned" by chemicals(?). It was found on the beach after the Deepwater Horizon Blowout (BP Oil Spill). After the Deepwater Horizon Blowout in the Gulf of Mexico, the authorities verbally ordered (to Provitapax) that absolutely nothing was permitted to be collected from the shore, (or planted.) This created a moratorium on our work.

NEVER touch anything on the beach, unless the authorities give permission. These rules are for our protection during special circumstances and must be obeyed! We are now, however, resuming our work... refurbishing our research vessel, building a mobile research teaching lab, and should you choose to help support our work, we thank you... We hope others worldwide find inspiration to start their own project in their local community; and if we are in a position to help or answer any questions, please feel free to contact us, and we will do our best.
---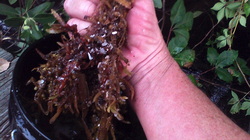 This seaweed, collected on the same shore, re-hydrated normally. Look for eggs on seaweed, and if you see any, put them in the bucket of seawater with anything else you found that you want to try to revive.
---
Always write the date, time and place of your testing and keep a record of it.

Useful Equipment for Volunteers
​
* GLOVES: small, medium, large, nitrile, latex, or work gloves to protect your hands
. Some shells are very sharp.
*RUBBER WORK BOOTS, calf or knee high: small, medium, large; preferably white, to avoid cutting your feet on oysters, anything sharp, broken glass or protect you, if you step on a stingray. (I did---put hot water on it to help, until you get first aid)
*JUNGLE TEST STRIPS, pH, salinity, nitrite, nitrate, alkalinity test kits for salt water. Keep a log of these values in a notebook.

*THERMOMETER, to record water temperature. This is very important, please write down the time, date, and place or places where you test water temperatures and keep a record of it. Try to test in the same spot or spots each time you test temperatures.
*
LOGBOOKS
: to record the date, place, time, what you planted(take pictures) and the results of your water testings values using Jungle Test Strips. Test and record nitrites, nitrates, pH, alkalinity, salinity, temperature, and anything you notice everytime you work at your site.
*COMPENSATION (if possible) for volunteers' transportation costs and meals.
.
*5 GALLON BUCKETS WITH LIDS, to try to avoid spilling in your vehicle during transportation, most likely your vehicle will end up rusting though. Make small holes in the lid so air can circulate, because they are expelling ammonia, nitrates, and other chemicals while re-hydrating.

*AERATORS and 12 volt inverters, (to be considered a luxury--I only had them on long trips on loan) to use in the buckets during transport to your planting site. (I normally never had aerators--but I suspect the survival rate could have been much higher if I had.)
STUDENT MICROSCOPES (another luxury--but if it has a trinocular head for a small digital camera to photo what is on the stage, and a contained tank for hatching, some egg identification could be attempted), and related materials.
*MESH NET BAGS to contain what you collected and attach to a piling (submerged) or weight down with a rock at the shore, until you can plant it and to contain larva if any eggs hatch..
*WEATHER PROOF OR INEXPENSIVE CAMERA to photograph and document what you plant and chronicle growth rate.
*FIRST AID KIT: must have hydrogen peroxide--I use diluted bleach, personally, not to take any chances) to clean
any cuts or scratches).
*WIDE BRIMMED HAT to prevent sunburn or umbrella.
*DRINKING WATER (must have to prevent dehydration)
The most important "Commandment" or "Safety Rule": Have a bottle of hydrogen peroxide or diluted bleach available at all times, to immediately clean and disinfect your hands and feet, (or any cut or scratch even if you were wearing gloves) after collecting or planting, before you shower and afterward!!!
!
NEVER, EVER, COLLECT ANYTHING AT THE BEACH, if:

HEALTH DEPARTMENT "NO SWIMMING" WARNING SIGNS ARE POSTED; or SIGNS THAT SAY "ELEVATED UNSAFE BACTERIA OR TOXIC CHEMICALS ARE PRESENT".

Harmful algal blooms (HABS) bacteria, and certain microbes, can be toxic and make you very ill.

If warning signs are posted at the beach, DO NOT COLLECT OR TOUCH ANYTHING, NO MATTER HOW HEALTHY YOU ARE. THIS INCLUDES THE SURF ZONE, SAND, SHORE and WHAT HAS WASHED UP ON IT!!!!********** Our most precious resource is our children, starting awareness in elementary school, and If we take the time to listen, we, too, can learn from them.
As a parent and grandmother, my dream is for a bountiful, filled-with-wonder, world to exist for our children.

Volunteer groups are increasing worldwide, and eventually, you will find the area of interest you most enjoy. With more people working together, we have a greater chance of achieving our goals.

Documenting your work, can help contribute to the marine egg identification literature, which is a growing, largely, undocumented body of knowledge.

​Consider this: man has explored only a small amount of the seas, and earth is primarily a water/ocean planet.

Selflessly planting, hatching, releasing, and giving back, can be joy and healing in the truest sense of the word.

Using private or approved wetlands to work with, I would like to reproduce and document this "process", step by step, to share with anyone, and help provide start-up equipment for others interested in starting their own local "reef corral". For some, it might be too expensive, to do on their own. The Jungle Lab Test strips are about $14.00 per bottle, the rubber boots about $35.00, an underwater inexpensive camera can cost anywhere from $80 or more, not including other essential safety and first aid equipment.

Sea gardens projects could create eco-tourism-education jobs, income, habitat, feed humanity and more. What we learn when doing this, in a spirit of cooperation among peoples, can be passed on to others for the "greater good".

The ocean, a garden from which we traditionally harvest, is also a garden, we can cultivate.

Let our stewardship set a good example and leave the world a better place. We can do this. Kind regards,

Domenica Ventura
Volunteer/Director, Chief Executive Officer
ProVitaPax Marine Research Association
www.provitapaxmarineresearch.org
info@Provitapaxmarineresearch.org

Correspondence may be addressed to:
Provitapax Marine Research AssociationP.O. Box 464
Englewood, FL 34295
Your contribution is a chance to help change the world for the better, a legacy that will live on and help fund building a mobile research laboratory to be used for teaching stewardship and innovative conservation methods. Your donation is also tax deductible. We look forward to hearing from you.